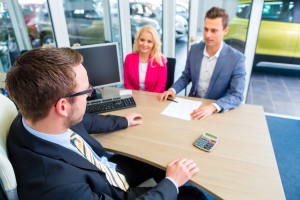 Buying a used car from a dealership can be an intimidating experience, especially if it is your first time. In order to ensure you walk away with the car of your dreams without going beyond your budget, it may be helpful to take a look at some of the most useful questions to ask. By educating yourself before you go into the pre-owned vehicle dealership, you will be setting yourself up for a far more pleasant experience.
It is also important to be upfront with the salesperson about what you are looking for and how much you want to spend, as this will make the process much smoother. When shopping for a used car, keep in mind that the more info the better. You can never ask too many questions!
Here is a list of the top questions to ask a used car dealer:
1. Is the car certified? If so, can I see the pre-certification inspection from the mechanic? All cars must go through an inspection before they can be certified. The inspection paperwork will give you some insight into what was fixed and what may need to be done in the future.
2. Do you know who the vehicle was purchased from? Trade-in vehicles should include maintenance records that will give you a rundown of what has been done over the years. If the car was purchased at an auction, it is important that it is inspected by a mechanic who specializes in used cars.
3. Who certified the used car? Keep in mind that the only certification that holds any value is a manufacturer certified pre-owned car.
4. Is a CarFax report provided before I purchase the used car? Any reputable used car dealership should have no problem with this. When you get the CarFax report, make sure the VIN number matches up with the car you are looking at.
5. What is the cash price for this used car? In most cases, cash should get you a lower price. This is largely due to the fact that it eliminates a lot of work on the dealer's end. While you may be leaning towards financing, it is important to know your options so you can ensure you are getting the best deal for you.
6. What services have been performed on the vehicle since it came under the care of the dealership? This will help you determine if you are getting a good value for your purchase.
7. What is your policy on trade-ins? Depending on your situation, trade-ins will make your life a lot easier if the dealership is willing to handle this for you. Selling your old car on your own can be both overwhelming and exhausting, which is why it is to your advantage to look into the trade-in value of the vehicle.
8. What are the dealer-specific fees (if any)? Before you begin your negotiation, make sure to ask what fees are applied. This will help ensure you are not blindsided at the end.
Here at European Motors, our sales team is here to guide you and help you find the perfect car for your lifestyle. We understand what a huge decision this is, which is why we have enlisted only the most knowledgeable people in the industry to help you.
The above listed questions should give you a good place to start when looking into purchasing a used car in Plano. To learn more about our services or to view our inventory, please do not hesitate to give us a call or stop by our dealership.