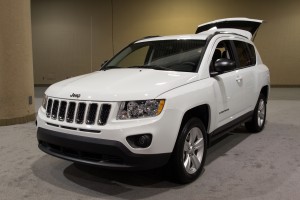 Whether your current car finally bit the dust or you are just in the market for a different vehicle, shopping for a pre-owned car in Richardson can be challenging. There are a number of important factors to take into consideration before making your final decision and driving off into the sunset. You must consider pricing, style, utility, and the general condition of the used car you have your eye on. The used car market is full of many great options that will leave you with a reliable vehicle that won't break the bank. Here at European Motors, we offer a wide range of used vehicles perfect for every need. If you are in the market for something sporty and reliable that you can use for both work and play, you may want to consider a pre-owned jeep. As a reputable used car dealership in Plano, we strive to help car buyers settle on a vehicle that is both in-line with their budget and lifestyle. A pre-owned jeep is a great option for people who are looking for a vehicle that can be used in town as well as for fun on the weekends. Below you will find a short list of benefits to buying a pre-owned jeep. If you have any questions or would like to learn more about our pre-owned vehicles, please do not hesitate to ask.
Condition Matters
One of the greatest benefits to purchasing a certified pre-owned jeep from a used car dealership in Frisco is that you know the vehicle is in good condition. In many cases, these types of vehicles will have low mileage and little-to-no mechanical issues. Jeeps are a popular option for many people, but some use them solely on the weekends for fun, which is why they are more likely to come with low miles. Because of this, your chances of getting a vehicle that is like-new and headache-free are greater.
Your Wallet Will Thank You
Another benefit to buying a pre-owned jeep from a used car dealership in Texas is that you will be getting a better deal than if you were to buy a brand new vehicle. If you are on a tight budget yet still want a vehicle that is reliable, in great condition, and will last you for many years to come, going the certified used route is a great option. For example, the pricetag for a 2014 Jeep Cherokee starts at $23,000 (for the most basic model) whereas you can purchase a slightly older version for $15,000 or even lower in some cases.
Versatile Vehicles
Jeeps are extremely appealing vehicles to many people, as they are attractive cars that are useful for both work and play. They have great pulling capacities without being too bulky, making them a good option if you need to haul a trailer or some other load. They do very well as off-road vehicles, giving you the opportunity to navigate roads that many other cars cannot. They are well-equipped to be taken off-road recreationally, giving you the chance to explore new areas and adventures. Jeeps also have a very sporty look, which is one of the reasons people are drawn to them.
Depending on your budget, lifestyle, and needs in a vehicle, a pre-owned jeep could be a wonderful option. If you are outdoorsy yet still need a vehicle that you can maneuver through the city that won't cost you an arm and a leg, you may want to look into our used jeep options.